I had a bunch of fun creating an entry for the Deco Art Media Challenge. It's called under the sea and I knew exactly where I wanted to go with this!!!
I used the Deco Art Americana acrylic paint line, Deco Art Modeling Paste as well as the new Deco Art Metallic Lustre in Rose Gold.  A complete list of all the paints used is at the bottom of this post.
I took a paper mache mannequin (see below) and glued random under the sea objects with the random stash molds I have been collecting and yes that includes those cool fish scale as part of her bustier. I then painted the entire piece in Deco Art Americana Coastal waters, Deep turquoise and Soft Jade. I then went back and hand painted each object on her bodice using Americana.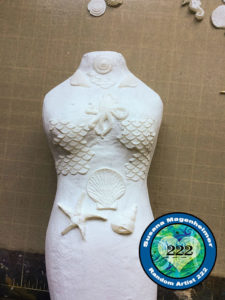 ***Fresh technique alert*** I then did a lightbulb went off in my head technique where because the mannequin is an odd shape laying a stencil flat is near impossible. So light bulb wet off and I took parts of the seaweed stencil and drew an outline from it which I then fussy cut and blobbed on < << (Random Artist 222 word) some of Deco Art's modeling paste. I love how it takes color. I let those piece dry then glued them on in a manner that made me smile 😀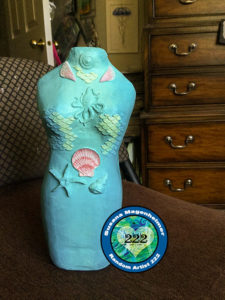 Ta Daaaa, the final outcome 😀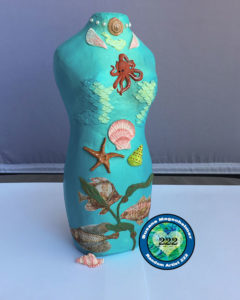 I used the following Americana paint colors:
Coastal Waters
Chartreuse
Deep Turquoise
Soft Jade
Melon Ball
Vanilla Shake
Teal
Terra Cotta
Autumn Red
Coral
Canyon Orange
Thank you DecoArt for sponsoring this challenge.
I hope you liked this project.  If you did, show some love by either leaving a comment or subscribe to get notified of new posts.