So I decided to travel to my edgy side on this art piece 🙂 I have always been inspired by the underwater mythology that appears in the Pirates of the Caribbean movie series. So this led me to discover what lies beneath.
As always, I start with my idea board you see below. I pile on all the stamps, stencils and thoughts on this piece of paper and I add to it as I go. I test colors, placement and techniques on it before I mess up a background that took me a lot effort to create and yes I am a control freak with art.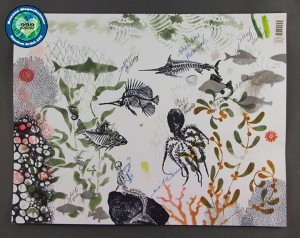 The feature stamp of the mermaid on the rock is from Viva Las Vegas Stamps. The other feature stamp is the octopus from Fred Mullet. All the other elements are various stencils, stamps and dies from my stash. I tried to give the skellie fish a rusted out vibe not sure I caught that effect but it still sings of decay LOL 😀 The Octopus is a favorite! I stamped it on tissue paper and used Poloychromos to shade it and then used Ranger liquid Pearls to create raised tentacles and covered it all with Diamond Glaze for a wet underwater vibe.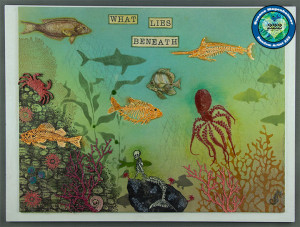 If there is anything on the piece you are interested in knowing about feel free to leave a comment below 😀 I am not sure how much blah blah everyone wants to read – kwim.
Hope you enjoyed and if you did please show me your love by subscribing and or leaving a comment 🙂