I ended up working in my journal and pulled out my new Seth Apter Transform stencil and Seth's amazing stamps. I started out with Paper Artsy chalk paints in four colors and blended them together until I was happy.
Next I used Seth's rubber stamps predominately from his Solar System collection and randomly stamped them onto the background. I then used the Transform stencil which can be purchased at Stencil Girl and applied modeling paste to create some dimension.
I added a few drops of burnt orange archival re-inker but it was too light. I had to reapply the stencil and then sponged a rust colored ink on top of the letters. Feeling adventurous I then tried to put Ranger's Crackle Accents on top of the letters but the crackling was uneven. So I then used an IndigoBlu crackle stamp to create some more effects over the letters. I then highlighted the letters with Pastel and Micron pens. I added some leaves and ta da! Done!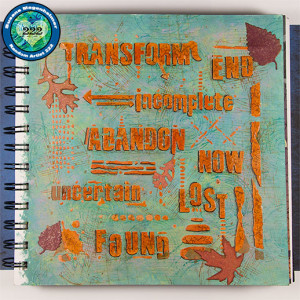 I hope you enjoyed this and if you did then please show my your love by subscribing or leaving a comment.